Kitchen mixer taps - granite and steel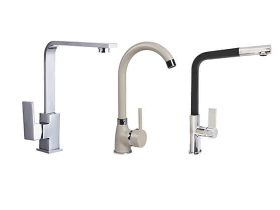 Find out more about our kitchen mixer taps
In our range, you will find mixers that are matched to the individual sinks not only visually, but also functionally. We offer extremely durable models in various colours. The classic chrome kitchen mixer tap fits every Primagran sink model and can be mounted directly on it or onto the worktop surface.
The products we sell are made of solid brass, which guarantees long-term satisfaction. Models with a highly placed aerator are perfect for two-chamber sinks as their shape makes it easier to wash tall pots and larger plates. Taps with a pull-out spout and a long reach will be helpful when washing, rinsing and filling large dishes. You'll also find models with elegant and robust handles for turning on and adjusting the water temperature. The handles can be placed in the side or frontal positions to suit your preferences.
We recommend fancy-shaped mixers from our exclusive collection, which was created for those who want to add a pinch of world design to their kitchen with small details. Glossy chrome sink mixers go perfectly with stainless steel kitchen appliances. When introducing individual chrome models into our offer, we took care of every detail to satisfy even the most demanding customers. Stylish and modern kitchen taps are extremely resistant to mechanical damage and water stains that may occur during use. Fingerprints are also invisible on our products, which makes it much easier to keep them in impeccable condition all day long.
Primagran granite taps are available in several colour versions to easily match the chosen sink model or to complement an original interior design in an interesting way. Find out more about our products!