Single bowl sinks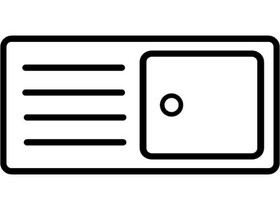 What should you know about our single bowl sinks?
The one-bowl kitchen sink is perfect for kitchenettes, small kitchens, and interiors decorated in a minimalist style. It is a good solution for people who do not cook much, have dishwashers, or want to equip the kitchen in a rented flat.
In Primagran's offer, you will find one-bowl granite sinks in various shapes - rectangular, round, oval, or square. Our assortment also includes models with or without a drainer. The products come in six colour versions: white, beige, graphite, grey, semi-matte black, and black, thanks to which it is easy to match them to any interior décor. They also match seamlessly with the kitchen mixer taps and useful accessories such as the liquid dispenser available in our shop.
Countertop single bowl kitchen sinks included in our offer are made of 80% granite – which is resistant to high temperatures, scratches, and cracks. The high-quality granite used makes our products resistant, durable, and intended for long and intensive use. All models are covered by a 35-year guarantee. Each sink is equipped with special holes that allow easy self-assembly. We can also make additional holes in some models to enable the installation of a dishwashing liquid dispenser. Our single-bowl sinks with or without a drainer are designed for kitchen worktops from 45 centimetres in width.
Single-bowl sinks are currently one of the most popular and frequently chosen models because they take up little space, but at the same time are extremely functional. They fit perfectly into the space of any kitchen, whilst the spacious chamber makes it possible for you to comfortably wash dishes and pots, as well as prepare food. For those who want to increase the comfort of washing up, even more, we recommend models equipped with a drainer. Check out the countertop, inset and drop-in sinks and choose the best option for you.
Do you have any questions about our single bowl sinks? Write to us or give us a call - we'll help you choose the perfect model!