Cabinet sinks from 40 cm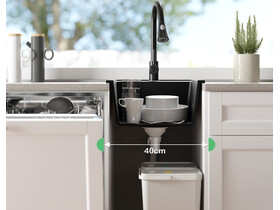 Read more about granite sinks for cabinets from 40 cm
Primagran's smallest granite countertop sinks fit kitchen cabinets as small as 40 centimetres wide. This means that you can enjoy the quality, functionality and extraordinary design of a granite sink while still in a small kitchen or kitchenette. The compact sink model is suitable for small kitchens and kitchens that are difficult to arrange. It does not take up too much space and provides more room for other kitchen appliances; a convenient solution, especially when you use a dishwasher on a daily basis and don't need a lot of space to wash dishes.
The six universal shades of the countertop sink for 40 cm cabinets allow you to match the model to any kitchen as it underlines its style and character. Choose granite or chrome mixers and accessories thanks to which you can complement your 40 cm sink with a colour-matched liquid dispenser or a practical siphon with an automatic stopper. Opt for a small but functional solution: you don't have to choose between high-quality and low price. Primagran sinks are manufactured in Poland using high-quality resins and mineral aggregates. Choose a sink for a cabinet from 40 cm and get up to 35 years of guarantee. You can be sure that your sink will be durable and resistant to mechanical damage, discolouration and sudden temperature changes. In addition, daily care of a granite sink will take you only a few minutes. In our shop, you will find care products which you can easily use to keep your sink in perfect condition for many years.
If you have any questions about sink care or selection, please feel free to contact us and visit Primagran's blog.