Sinks for cabinet sizes from 50 cm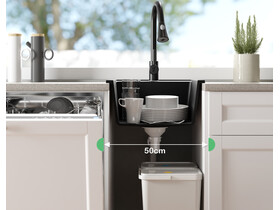 Read more about sinks for cabinets from 50 cm
In the Primagran shop offer, we have a wide selection of granite sinks fitted to 50 centimetre wide cabinets. Our products are available in several universal colours - black, graphite, grey, beige, white and black semi-matte. This allows you to perfectly match your countertop or inset sink to your kitchen mixer tap and interior design. The smooth, semi-matt surface of the sink is aesthetically pleasing and blends in perfectly with the rest of the interior design.
Granite sinks for 50-cm cabinets come in several shapes - rectangular, square and round. The assortment also includes countertop models equipped with a functional drainer. A well-chosen 50 cm sink is a big help during everyday duties in the kitchen. You can comfortably wash large dishes, pots and plates or rinse fruits and vegetables.
The 50 cm sink for the cabinet is distinguished by the high quality of workmanship. It is made of granite aggregate and polyester resin, which makes it resistant to mechanical damage and sudden temperature changes. The smooth surface of the granite countertop sink makes it easier to keep your kitchen clean. Each chosen model can be additionally enriched with an antibacterial formula that protects against the development of dangerous microorganisms, including fungi and bacteria.
The granite sinks for 50cm cabinets available in our range are easy to install yourself. We provide the necessary mounting holes that will allow you to fit the sink to your needs. In the Primagran shop assortment, you will find functional and practical accessories that will further increase the ergonomics of the workplace - an automatic siphon and a dishwashing liquid dispenser. The complete set not only makes kitchen work much easier but also significantly improves the aesthetics of the interior. If you are wondering which sink for a 50-cm cabinet will work best in your kitchen - contact us! We are always happy to answer all your questions!