Grey sinks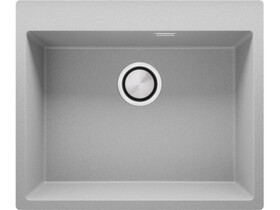 Read more about Primagran grey granite sinks
Some people like bright and cosy interiors, while others prefer simple and modern solutions. But it's most important to feel comfortable in the kitchen. With so much to choose from, kitchen design is now much easier. Primagran© grey sinks are an unusual piece of equipment that attracts attention and surprises with their functionality. Each model fits both modern and more traditional interiors.
In kitchen design, the industrial style, which is distinguished by its raw character, is gaining popularity. The Grey kitchen sink perfectly complements such an interior, nicely harmonising with the colour scheme of the decor. It is also worth mentioning the Scandinavian style, which is characterised by the use of various shades of grey. For a grey sink, you can choose kitchen fittings in the same colour or opt for an original, contrasting combination.
Among the grey sinks, we can distinguish single bowl sinks such as Riga, Oslo and Geneva. Due to their small size, they are recommended for small kitchens or kitchenettes. The Ibiza and Milan models are equipped additionally with a draining board on which you can dry your dishes. We also have one-and-a-half compartment models in our assortment, such as Paris, Seville or Madrid. Those with larger kitchens will certainly be interested in the Bergen two-compartment sink, while the Monaco model is an example of a functional corner sink.
Check out Primagran's countertop and inset sinks.
A grey sink, despite its light colour, is resistant to discolouration and ugly stains. The highest quality materials were used in its production - granite aggregate and resin, so it is not threatened by mechanical damage or sudden temperature changes. Each of our sinks can be enriched with the antibacterial formula that prevents the development of harmful microorganisms and neutralizes unpleasant smells. It is also worth choosing a dispenser for soap or washing-up liquid, which only shows the very top above the sink.