Cabinet sinks from 45 cm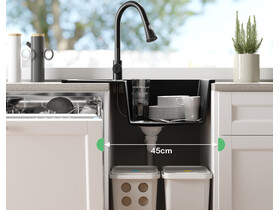 Read more about 45 cm cabinet sinks
A sink fitted to a 45-centimetre wide cabinet is a small solution that works well in kitchenettes, small kitchens as well as large rooms equipped with a dishwasher. The 45 cm cabinet sink is available in single-chamber models. This offer also includes models equipped with a practical drainer. Primagran granite sinks are available in several universal colours - black, semi-matt black, graphite, grey, beige and white. The models also differ in shape: rectangular, round and oval. This allows you to aesthetically match the equipment to your dream interior design.
Granite sinks for 45 cm cabinets are an ideal solution in interiors where every centimetre of the worktop counts. At the same time, they make it possible to comfortably wash dishes and pre-process food. Our products are made of top quality materials - granite aggregate and polyester resin. You gain resistance to mechanical damage, loss of colour and sudden temperature changes. Small granite countertop sinks are durable and incredibly resistant that performs well for many years of intensive use.
Each of the sink models that fit 45-centimetre cabinets can be enriched with the antibacterial formula we offer. It is based on the action of silver ions that prevent the development of dangerous microorganisms - bacteria and fungi. Additionally, it protects against unpleasant odours. The formula is found throughout the entire structure of the 45 cm sink, so it is active regardless of which part of the sink you use.
Kitchen sinks that fit 45-centimetre cabinets are sold with standard holes that allow for easy, DIY installation. We are confident in the high quality of our products, which is why we provide up to a 35-year reliability guarantee. The Primagran shop also offers functional accessories such as an automatic siphon and a liquid dispenser. If you have any questions about our products, please do not hesitate to contact our specialists!