Beige sinks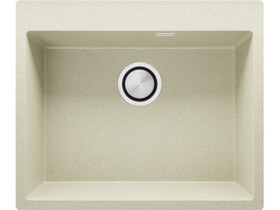 Read more about Primagran beige granite sinks
We know how difficult it is to decorate the kitchen of your dreams. If you are looking for a change from classic chrome, granite sinks offer a few original solutions thanks to which you can change the face of your kitchen. Beige granite sinks go well with kitchen mixer taps of the same colour, but they also allow you to contrast them with chrome or black fittings.
A beige sink is an unconventional choice, but it turns out that it complements most stylized interiors perfectly. It complements a rustic-style kitchen especially well, where it will go beautifully with the wooden elements. It also fits into a cosy Provencal style, where light colours reign.
Riga, Geneva and Oslo models are one-bowl sinks that take up very little space, which makes them perfect for small kitchens or kitchenettes. Sinks such as Ibiza or Milano contain an additional drainer, thanks to which drying dishes or large pots will no longer be a problem. One-and-a-half-bowl models, such as Paris, Seville or Madrid, are the perfect combination of size and functionality. For owners of large kitchens, we recommend countertop double bowl sinks, such as the Bergen model. Our product range also includes corner sinks, such as the Monaco model. They are a good solution that allows you to maximise space.
The use of the best quality materials allowed us to obtain outstanding resistance to mechanical damage, scratches and temperature changes. The Primagran© beige granite sink provides resistance to staining and ugly stains. Our products can also be supplemented with an antibacterial formula containing active silver ions, which protects the sink from harmful microorganisms and eliminates unpleasant odours. A dispenser for washing-up liquid or soap can also be a useful addition; it comes in six different colours so you can easily match it to the beige sink.