Kitchen sink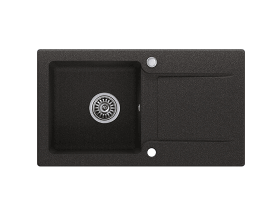 Find out more about Primagran granite sinks
Primagran granite sinks are durable and resistant kitchen sinks that perfectly match the interior of any kitchen. The granite sink is an interesting alternative to models made of traditional materials as it is manufactured in Poland from premium raw materials containing about 80% natural granite aggregate (in the form of coloured quartz sand) and about 20% acrylic or polyester resins. Thanks to this, stone sinks have properties that are hard to find in models made of steel, ceramics, or plastics. For example, our granite countertop sinks are durable, resistant to temperature changes, mechanical damage, and discolouration.
The mineral content also gives the vitrified clay sink a smooth surface, making it completely waterproof, a handy feature! It vastly improves the maintenance of hygiene and order in the washing-up area, as well as allowing for maintaining an aesthetic look, reminiscent of natural stone. Our Granite overlay sinks are also designed beautifully with their classic look and universal colouring allowing them to be used both in modern and stylized interiors. At Primagran, we offer granite kitchen sinks in the following colours: white, black, semi-matt black, graphite, beige, and grey. The variety of available models and the originality of their shapes make our granite sinks fit into both small kitchen annexes and large family kitchens seamlessly.
Choose between lagoons with a minimalist atmosphere and those distinguished by their rich decorative form. The granite sink is available in one, one-and-a-half, and two-chamber variants. The products in our shop are competitively priced and so we have a wide selection of products so you can find the perfect countertop or inset sink for your kitchen and your budget. We invite you into a world of beautiful and functional kitchens, where the washing-up area becomes a highlight of your kitchen, thanks to our granite kitchen sinks.