Sinks for cabinets from 80 cm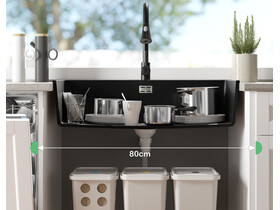 Read more about kitchen sinks for cabinets from 80 cm
If you have a large kitchen area and are looking for a solid sink model, we have an excellent proposition for you – an 80-centimetre cabinet sink. This wide sink will provide you with full comfort while washing up and will enable you to perform this activity even with two pairs of hands. In a kitchen where you cook a lot, this solution is unbeatable. We guarantee a wide choice from several different configurations of bowls and we offer countertop and inset sinks with one, one-and-a-half, or two-centimetre bowls, with or without a drainer, in several shapes and we offer classic sinks: rectangular, square or round.
We have also crafted a corner sink with geometric shapes that fits perfectly in the corner of the kitchen. As well as several shapes and designs of bowls or inset sinks, each model is offered in several classic colours: white, beige, shades of grey, graphite, semi-matt black and black. Thanks to so many possibilities of colour and shape configurations, you can easily match the 80 cm sink to your kitchen and the stylish surface, which is matt graphite, will give your kitchen a stylish touch. The Primagran 80cm cabinet sink is not only distinguished by its elegant and modern look, but also by its high-quality confirmed by certificates and thousands of satisfied customers.
We prove that a granite sink does not mean a very high price. Additionally, when you buy Primagran sinks, you get as much as a 35-year guarantee. We produce our sinks in Poland from the highest quality resins and mineral aggregates, thanks to which they are resistant to damage and any kind of scratches or stains. They also do not require time-consuming care. When choosing a sink model for a cabinet of 80 centimetres or more, you also have the option to complete it with a functional mixer tap (granite or chrome), as well as other practical accessories such as a siphon with an automatic stopper and a liquid dispenser.
If you don't know which model to choose, please contact us and we will be happy to help you make the best choice!