Kitchen dispensers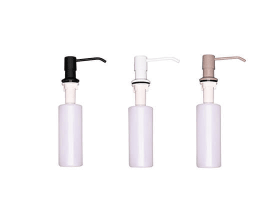 Aesthetics in the kitchen
Some kitchen accessories are inconspicuous, but in everyday use, they offer considerable convenience and save space. These include the liquid dispenser, which allows you to dispense washing-up liquid or hand soap. It's an elegant addition that will reduce the number of bottles on your worktop.
The dispensers available from Primagran are not only practical but also aesthetic - they match any model of granite sinks. They come in similar colours, so it's easy to complete a coherent set. The dispenser container is recessed into the sink, only the aesthetic pump is visible on the surface, and the refilling itself takes place from the top - after removing the pump you can easily refill any liquid.
Primagran kitchen dispensers are made from a durable and hard-wearing raw material that is resistant to mechanical damage and discolouration. Check our offer of liquid dispensers and convince yourself of the convenience of this solution! If you have any doubts about whether the chosen model will fit your kitchen sink or you want to know the details of its installation, feel free to contact us!