Kitchen mixer taps and accessories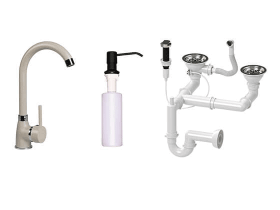 More information about Primagran kitchen mixer taps and accessories
The sink is the basic equipment of every kitchen, but it is the kitchen mixer tap tap and accessories that complete the ensemble. A skilfully selected mixer tap can be a subtle addition that complements the décor, but it can also play first fiddle, giving the whole interior character. We have models with simple, minimalist spouts as well as more fancy ones, for example in retro style. Our products are easy to match with any granite sink because they come in several colours: white, beige, grey, graphite, and black. Chrome taps are also worth mentioning - a proven and classic solution that is easy to match with the kitchen appliances.
Our mixer taps come with several features designed to make working in the kitchen more comfortable, such as some models coming with a long, pull-out spout to make it easier to wash large dishes and clean the sink bowl. Each mixer tap has an ergonomic handle that allows you to control the water pressure and temperature. It can be mounted on either the side or front for maximum ease of use. You don't have to worry about the durability of our products either - they are all made of solid brass, which is resistant to mechanical damage, temperature changes, and corrosion.
In order to compose a complete set, we recommend choosing appropriate accessories for the sink and the kitchen mixer tap tap. Your perfect solution is the liquid dispenser that saves a lot of space on the worktop. The reservoir is hidden under the surface of the countertop, and the dispenser tip comes in several colours. Kitchen accessories also include wall traps, both classic and automatic. Their special design doesn't take up too much space under the worktop, and they can also be used to connect a dishwasher or washing machine. You don't want to miss our wide range of products and choose the kitchen mixer tap tap and accessories that will suit your kitchen!