Sinks for cabinet sizes from 60 cm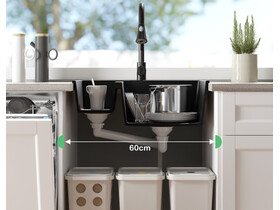 Read more about kitchen sinks for cabinets from 60 cm
Large family sinks are normally installed in 60 centimetre wide cabinets. In the Primagran shop, you will find a wide selection of countertop kitchen sinks. For larger kitchens, we especially recommend one-and-a-half and two-chamber models. With their deep bowls and larger sizes, they are a functional kitchen accessory, allowing you to comfortably wash large dishes.
Our 60-cm sinks are distinguished by their high-quality workmanship, original design and wide range of colours. Our products come in six basic colours: black, semi-matte black, graphite, grey, beige and white, thanks to which you can easily match them with any kitchen interior design. The 60cm cabinet sink is also available in a variety of shapes - from classic rectangular to square, and round models. The range includes sinks with and without a drainer.
Sinks fitted to 60-cm wide cabinets are not only distinguished by beautiful aesthetics but also durability. They are made of high-quality materials - granite aggregate and polyester resin, thanks to which they are resistant to mechanical damage and extreme temperatures. The high content of minerals makes the surface of granite sinks extremely smooth, which greatly boosts hygiene and cleanliness.
Kitchen sinks for 60-centimetre cabinets are easy to install as standard mounting holes allow installation even without experience. All Primagran countertop sinks can be topped up with an antimicrobial formula that prevents the growth of dangerous microorganisms. Every Primagran granite sink model comes with a 35-year guarantee of reliability while practical kitchen accessories such as siphons, sink care products, liquid dispensers and kitchen taps are also available in our shop. We encourage you to create a coherent set that will help decorate the whole kitchen. Feel free to contact us if you have any doubts or questions!