Graphite sinks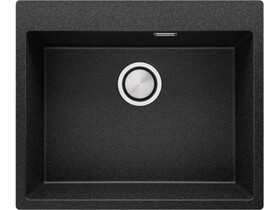 Find out more about Primagran graphite granite sinks
The interior attracts attention by using original solutions. We believe that kitchen equipment can have a beautiful design and high functionality at the same time. This is exactly what the graphite Primagran kitchen sink is, beautifully complementing the design of any kitchen. You can match it with a dedicated kitchen mixer tap tap in the same colour or opt for an extravagant, contrasting mixer tap.
The Graphite granite sink will complete the Scandinavian style, especially its variety - dark Nordic, which is dominated by dark, subdued colours. Lovers of modern kitchen décor, which can include minimalist or industrial style, may also be interested. Graphite sinks go well with materials such as stone, raw wood or even architectural concrete. All it takes is a little imagination to create a coherent kitchen arrangement that will delight for many years.
Our wide range is tailored to the needs of our customers. Small one-bowl sinks, such as Geneva and Riga, are perfect for kitchenettes and small kitchens. The San Francisco, Ibiza and Prague models are additionally equipped with a drainer that makes it easy to dry washed dishes. Madrid or Sevilla one-and-a-half-bowl sinks combine appropriate size and functionality, and for the owners of larger kitchens and cooking enthusiasts, we recommend two-bowl models such as Bergen. Perhaps you will be interested in unusual solutions, which certainly include the Monaco corner sink? Check out Primagran countertop and inset sinks.
Our products are made from the highest quality granite aggregate and resin, thanks to which graphite sinks are resistant not only to discolouration and stains but also to mechanical damage and sudden temperature changes. Each Primagran overlay and countertop sink can be enriched with an antibacterial formula, which prevents the multiplication of harmful fungi and bacteria, and also eliminates unpleasant odours. The graphite sinks can also be matched with a soap or washing up liquid dispenser, which comes in six colours.