White sinks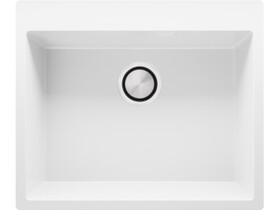 Find out more about Primagran white granite sinks
We want the kitchen to be cosy and beautifully decorated because it is said to be the heart of the home. It's true, we usually spend a lot of time in this room and we should feel as comfortable as possible. The abundance of interior design styles has meant that standard solutions are no longer enough. White Primagran© granite sink will fit perfectly in many kitchen arrangements, both modern and more classic ones.
A white countertop sink, paired with a kitchen mixer tap tap in the same colour, will go perfectly with a Provençal-style kitchen, where the emphasis is on light colours. Take inspiration from glamour style and go for contrast by pairing a white kitchen sink with a black mixer tap. The existence of many kitchen arrangements and the versatility of white means that the only limit is your imagination!
In our range of countertop and inset kitchen sinks, you'll also find simple single-bowl models such as Riga, Geneva and Oslo. They are a good choice for kitchenettes or small kitchens because their small sizes save space. Milan, Prague or San Francisco are examples of one-chamber models with a drainer allowing for convenient drying of cutlery, dishes and even larger pots. Those looking for white one-and-a-half bowl sinks will certainly be interested in the Madrid, Paris or Seville models. Two-compartment sinks, such as Bergen, are an excellent choice for bigger kitchens. An interesting solution is the Monaco corner sink, which saves space and at the same time attracts attention.
Contrary to what you may think, a white sink is not more prone to discolouration and stains, all thanks to the use of the best quality materials - granite aggregate and resin. In order to keep the kitchen station tidy, it's worth reducing the number of things placed on it to a minimum, so we recommend choosing a liquid or soap dispenser. The dispenser is available in several colours, so you can match it seamlessly with a white sink.