Pre-drilled holes in the sink
We expect more and more from kitchen sinks. They have to be perfect - aesthetic, practical and functional. These features are not easy to combine. However, sinks with under-moulded holes manage to do it. What are they? In which kitchens do they fit?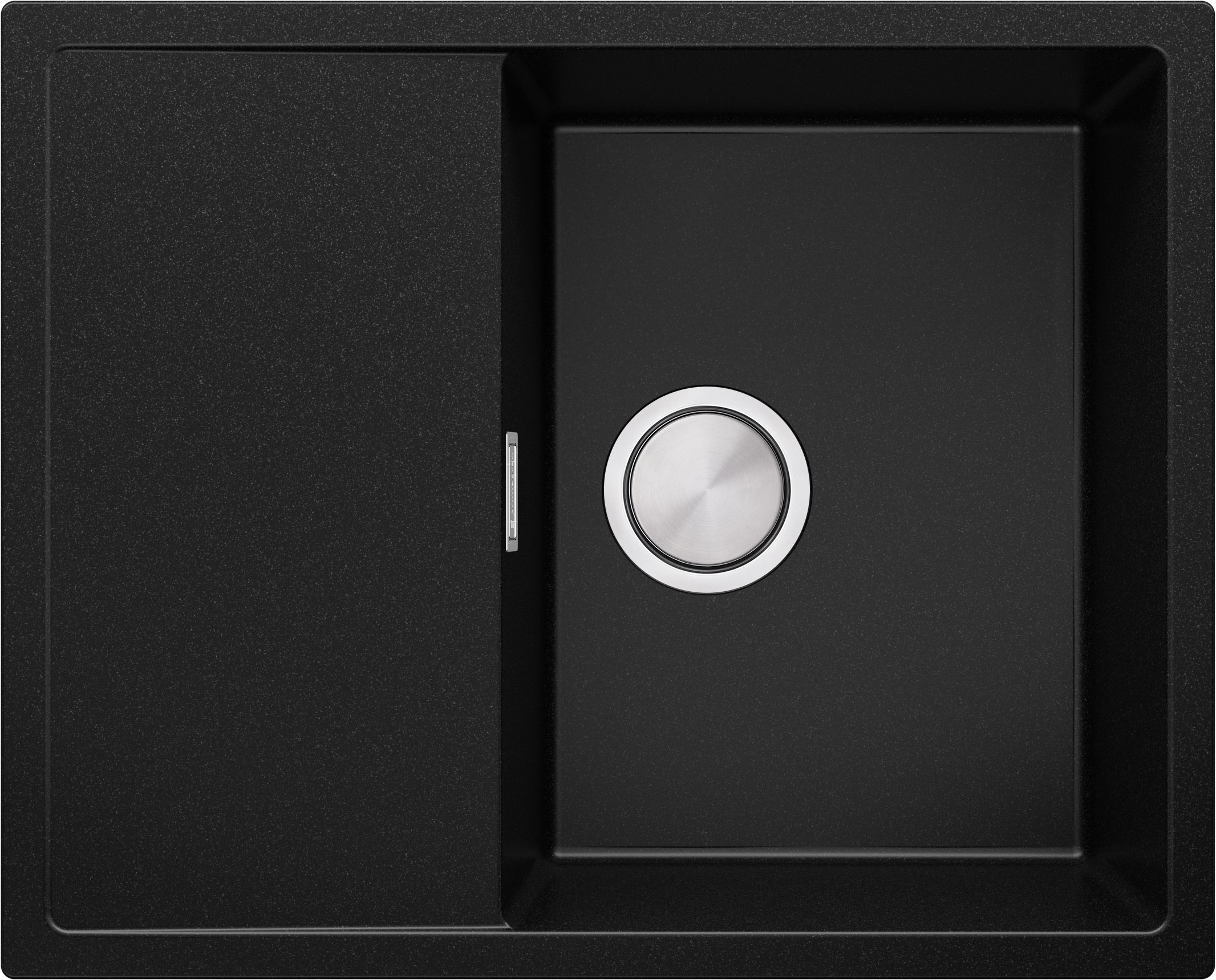 What are sinks with under-moulded holes?
The sinks with undermilled holes are premium ones. They are distinguished by their extraordinary aesthetics and perfect adaptation to the user's needs. They differ from regular, traditional kitchen sinks as they can be delivered without pre-punched holes for the tap, siphon or dispenser. These holes can be made by yourself according to the enclosed instructions. In under-moulded sinks, 2 to 4 holes can be made - depending on the sink model.
Why is a sink with undermilled holes attractive?
On the face of it, a sink with countersunk holes appears to be "inferior" to traditional sinks. After all, you have to drill the holes yourself with a drill or a punch. In reality, however, a little more work during installation means that only as many holes as are actually needed are drilled into the sink. This means that with a sink with pre-drilled holes, you get a great deal of flexibility in kitchen design. In practice, this means that it is possible to decide where to install the draining board or where to install the mixer tap and additional accessories such as a drain knob or a liquid dispenser. These accessories no longer have to be opposite the tap. In the case of a traditional sink, the holes are drilled in the factory with as many as the manufacturer guesses you will need. Most models have two holes - one for the tap and one for the knob or dispenser. If any of the holes are not used, they have to be covered. This is done with a cover which, although neat and aesthetically pleasing, is still visible and detracts from the looks of the washing area.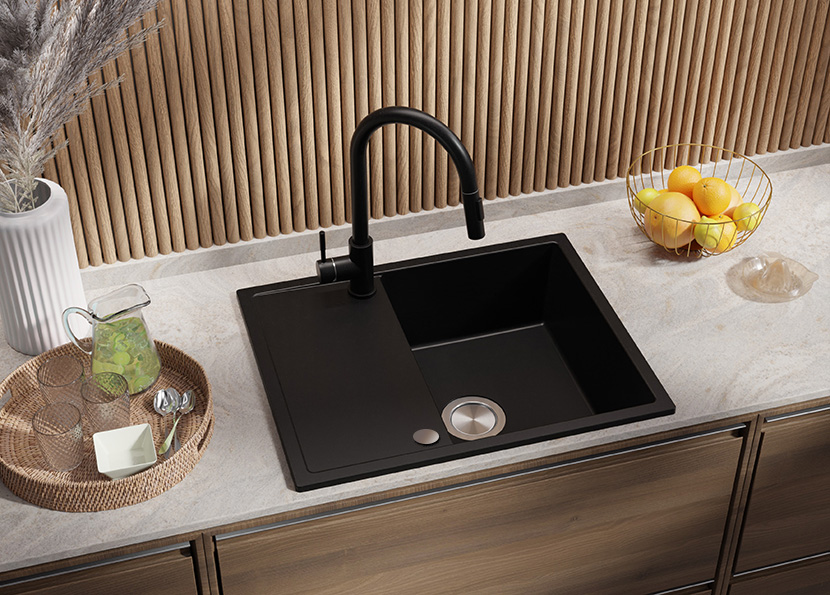 Traditional solution with blanking plug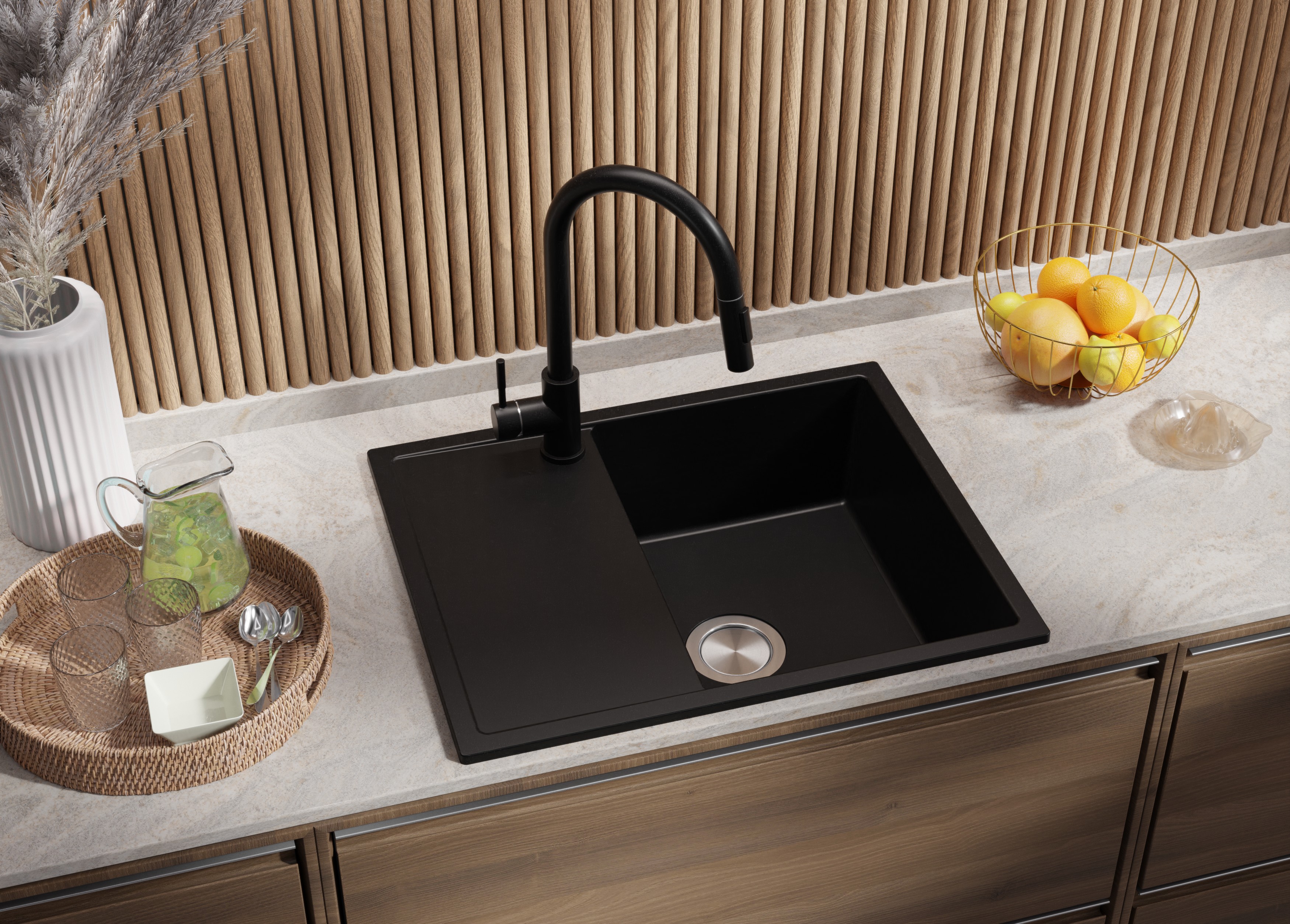 Milled hole solution - no blanking plug
A sink with under-moulded holes is the ideal solution for design lovers. It gives you interesting options for arranging the washing-up area according to your needs. Thanks to it, you do not have to worry that the design of the sink will be disturbed by metal plugs or other elements in a different colour than the sink.
Use the PDF instructions to learn how to safely and properly drill holes.
We recommend the use of professional equipment and the necessary protective clothing.