Under mount sinks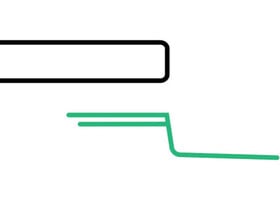 Find out more about Primagran under-mount sinks
In recent seasons, under-mount sinks have been the most fashionable option in the arrangement of the washing-up area. They differ from countertop models in that they are installed on the underside of the kitchen worktop. They allow you to maintain work comfort and aesthetics in your kitchen. They will complement elegant interiors maintained in a modern climate. The under-mount sink will be especially suitable for rooms in the English, shabby chic, rustic or Provencal style.
Under-counter sinks are distinguished by their minimalist design thanks to rims that do not protrude above the worktop surface. The result? The sink is practically invisible, while the worktop is exposed and serves as a drainer. To ensure that the sink doesn't stand out from the workspace, opt for a model in the colour of the worktop. At Primagran you will find under-mount kitchen sinks in as many as six universal and always fashionable colours: white, beige, grey, graphite, semi-matt black and black. The kitchen mixer taps are also in a similar colour scheme and match the model so you will easily compose a coherent set. Although the under-mount sink is invisible, it fulfils its function perfectly. Thanks to its unique design, it guarantees space saving in the working area as well as easier cleaning. Use additional kitchen accessories and see how functional the washing up area can be in your home.
Primagran under-mount sinks are distinguished not only by their modern design but also by their high quality. Under-mount sinks are made of durable and tested raw materials, which include granite aggregate and polyester resin. The unique mixture of raw materials makes the sinks resistant to mechanical damage, sudden temperature changes, discolouration, scratches and impacts.
Choose an antibacterial formula and enjoy a clean sink even longer as you get protection against harmful microorganisms and unpleasant odours. The high quality of Primagran sinks is confirmed by a 35-year guarantee of reliability.