Kitchen steel sinks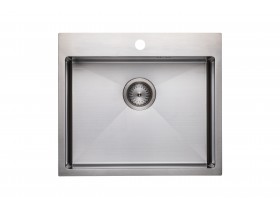 Read more about steel kitchen sinks
The most popular material for kitchen sinks is steel. Steel sinks have enjoyed unwavering popularity for years. They are made of stainless steel with stainless properties. This type of sink is resistant to kitchen detergents and chemicals, mechanical damage, abrasion, scratching and degreasing. Stainless steel sinks are coming back into fashion and are an increasingly common choice in the kitchen. Thanks to the material they are made of, they are highly resistant to any mechanical damage as well as to high temperatures and substances such as acids. They do not react with food, which makes them the best choice, amongst others, for catering.
Steel sinks can be installed both on top of the countertop and in a very fashionable way in recent seasons, under the countertop. They will look perfect in modern kitchens designed in the industrial style.
Primagran's range of steel sinks are made from high-quality 304 SeelQ stainless steel. This steel can be 100% recycled, making choosing a steel sink an eco-friendly choice.