Kitchen traps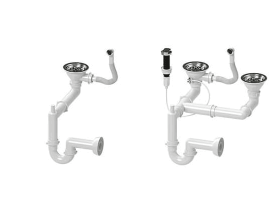 Read more about kitchen sink traps
The water trap is an essential piece of equipment in every kitchen. Not only does it allow water to be drained from the sink, but it also prevents unpleasant odours from escaping. We offer two types of high-quality water traps: automatic and classic. They are suitable for all our granite sink models.
Our kitchen traps are manufactured from durable plastic in a neutral colour. In addition, our products are equipped with an overflow protection system. In the case of automatic siphons, the strainer also functions as an automatic stopper. The elegant control knob, which is used to open and close the drain, harmonises beautifully with the other elements in terms of colour. Primagran siphons are also equipped with an additional outlet for connecting a washing machine or dishwasher to the sewer.
If you want to install Primagran siphons yourself, our instructional videos can help. For proper installation, you will need a set of gaskets, which we include with the purchased set. Create the perfect set and change the look of your kitchen!