Double bowl sinks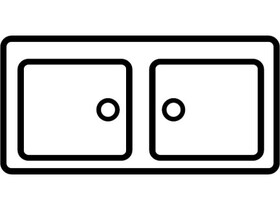 Read more about double sinks
Large double bowl sinks are the best choice for a family kitchen where there is always something going on. The double-bowl kitchen sink will also work well in interiors without a dishwasher and in homes for people who cook a lot. Two compartments will allow you to easily wash and rinse dishes, as well as prepare all your food in one. The double sink also allows you to choose additional kitchen accessories, which we highly recommend.
Place utensils into the larger bowl - a cutting board, strainer or grater - and you will gain a new dimension of functionality in your kitchen. Thanks to the two independent bowls, which are often complemented with a drainer, thetwo-bowl granite sink is distinguished from other models by its functionality and practicality. At Primagran you will find a wide choice of countertop double bowl sinks made of granite and in our shop, you can find double bowl sinks with or without a drainer. Each model comes in six colours: white, beige, graphite, grey, semi-matt black and black. The available kitchen sinks come in various shapes, from rectangles to corner forms and we recommend you choose a suitable kitchen mixer tap tap to perfect your kitchen. Double-bowl granite sinks are designed for kitchen cabinets at 60 and 80 centimetres in width and factory-made mounting holes enable easy self-installation. Our products are made of high-quality materials, which makes them resistant to mechanical damage, discolouration, bacteria and temperature changes while a high content of natural minerals makes double sinks look aesthetic and natural. Bet on practical kitchen equipment that ensures comfortable washing up every day; the varying eloquent designs will fit into any kitchen.
If you don't know what model of double-bowl granite countertop sink to choose for your kitchen, please contact us. We will help you choose the model, colour and additional accessories.