Accessories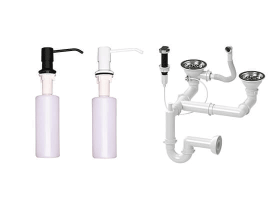 Read more about kitchen sink accessories
Primagran granite sinks can be combined with the kitchen sink accessories we offer. We offer a selection of kitchen gadgets. In our shop, you'll find accessories for sinks, such as regular siphons or siphons with an automatic plug, which make everyday kitchen work easier.
Both the regular and automatic siphons can be fitted with a single, one-and-a-half or double compartment sink. We recommend completing the set with a liquid or soap dispenser. Thanks to this practical solution you will get rid of ugly bottles standing on the edge of the sink, which often disturb your work. In this way you will "clean up" the washing-up area as only the chrome or granite funnel with a pump – which matches the colour of the countertop – will be visible. On request, we can add a special antibacterial formula with silver particles, which has bactericidal and fungicidal properties with proven effectiveness, to the sink mixture, making it completely antibacterial. If you decide to mount the mixer tap on the countertop, we suggest completing the set with an elegant chrome plug, which is designed for granite sinks. It is used to cover an additional hole in the sink.
We also recommend a care product for stone, plastic and stainless steel, which gives the surfaces a shine and a protective coating against dirt.