Single and half bowl sinks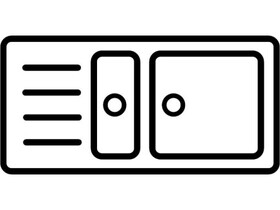 More information about Primagran 1.5 bowl sinks
Primagran one-and-a-half bowl sinks are perfect for small kitchens where every centimetre of countertop is important. Do you use the space for preparing and eating meals? This is the solution for you. The 1.5 bowl sink will also fit into a larger kitchen. You don't have to choose between size and functionality. This model provides everything you need. The larger bowl is used to wash and rinse dishes, while the smaller one is perfect for washing fruit and vegetables. It is also an ideal place to put cutlery and sort dirty dishes.
One-and-a-half bowl granite sinks are also available in classic rectangular shapes. This offer also includes corner models, which, due to their shape, are perfect for a corner of your kitchen. A wide range of colours makes it possible to match the sink to any kitchen interior to emphasise the style and character of your kitchen. Classic white will suit bright Scandinavian interiors, while shades of graphite grey will match a modernist kitchen. A beige sink would best suit a rustic kitchen. Universal shades of one-and-a-half-bowl sinks make it possible to match them to any kitchen cabinet. Primagran sinks are distinguished not only in terms of aesthetics but also functionality. A 35-year guarantee of resistance to mechanical damage, heat and staining provides you great confidence in the high-quality of our products. For all the sink models, including the one-and-a-half bowl sink, you can choose a kitchen mixer tap tap and practical accessories such as a siphon with an automatic stopper or a liquid dispenser.
If you have any questions or doubts as to which sink model to choose or which accessories to complement it with – please do contact us!